The Naples Tale of the Torn ACL: A Common Twist to Athletes' Well Being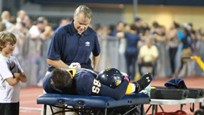 By Tyler Mosher      @TMosh4UI     Sep 04, 2015
 
A simple catch and move up field turned into another season-ending injury for a premiere athlete. The latest unlucky victim: Green Bay Packers' wideout Jordy Nelson.
 
After hauling in what appeared to be a routine grab and attempting to make a move to square his body, in hopes of making a would-be Pittsburgh Steeler defender miss, Nelson fell to the ground after a non-contact injury caused him to limp away gingerly in preseason action just days ago. It looked awfully familiar to sports fans.
 
A torn ACL was the not-so-surprising diagnosis following the August 23 tune-up.
 
One Naples Orthopedic Surgeon, Dr. Michael Havig, who is also the Golden Eagles' football team physician on Friday nights, said football players have increased exposure to ACL injuries due to their susceptibility to both non-contact and contact related incidents.
 
"In most action sports there's a lot of cutting and pivoting," he stated. "In football, your foot gets planted, your body is going one way, and your knee goes another. You often see players getting hit from the side pretty viciously, but most instances that I see are non-contact injuries that are a result of a player landing funny."
 
Before Aaron Rodgers' favorite target, it was the NFL's most physical specimen in Adrian Peterson. It was Rob Gronkowski, the league's most athletic tight end. And it was even young Derrick Rose, the Chicago Bulls' reputed second coming of Michael Jordan. Sports fans have seen their favorite players go down time and again, to the dismay of their die-hard fandom. So the same story goes, for another season more.
 
Dr. Havig utilized one first-hand example from last season that aids in his belief that contact injuries are harder to prevent, no matter how strong a player truly is.
 
"There was a Naples offensive lineman from last year that probably squatted 600 pounds, and he tore his ACL wearing a protective brace. He was at the bottom of a pile and just got twisted up the wrong way," Dr. Havig recalled from a season ago.
 
"I think that's what's tough, it's just not preventable sometimes," he spoke on behalf of some of the aforementioned examples.
 
"In the case of [Adrian] Peterson specifically, he's atop the pedestal in terms of who we define as an athletic freak, and I don't think he could have done much more. It's a wrong place, wrong time type of deal."
 
The latest notable casualty: Orlando Scandrick, a Dallas Cowboys starting cornerback who reportedly tore both his ACL and MCL at a team practice.
 
"Athletes are bigger, stronger, and faster than they ever used to be. In football, guys just hit much harder. I think there are probably more exposures to injuries today, especially for those that are practicing and playing year-round," Dr. Havig said.
 
Even at the highest level of play, in all sports, top athletes are ripped out of the first-team lineup and forced to rehabilitate for months on end—all because of a troublesome tendon that's too well known as the Anterior Cruciate Ligament.
 
Dr. Havig's reasoning for observers assuming real time knee injuries to be ACL tears in most cases: The media, who often scrolls related information on the ESPN ticker.
 
"Today's news is 24/7, 365 day reporting," he noted. "I think there's a better understanding of it [ACL], everybody on the street has heard what it is. ACL tears resonate with fans as a bad injury, which means there's a likelihood that a player may be out for a season or more."
 
It really is the monster of all injuries, but it doesn't hide under the bed; it shows its ugly colors and maintains its spot atop the most grueling sports obstructions today. Last Wednesday, two more season-ending ACL misfortunes were announced at the college ranks—namely ECU starting QB Kurt Benkert and Duke CB Bryon Fields.
 
But while it's a painfully common occurrence, it's survivable, exclaimed Dr. Havig.
 
"It's terrible news. The good news is we [Orthopedic Surgeons] can fix it, and athletes should be able to get back to playing at the same level they were before."
 
Returning better than before is increasingly possible, Dr. Havig pointed out. Times have changed, and the numbers prove it.
 
"In the 70's and 80's there was only a 45 percent success rate," he alleged. "Where years ago it was a career-ending injury, we can restructure the ACL to function very well. People didn't know what to do and didn't understand the process back then."
 
However, it's not an easy trek to full recovery.
 
"The number has come full circle and kind of settled at six months, when we can let people start to think about going back to sports, but they have to have good quad and hamstring strength. A lot of factors go into this," Dr. Havig recognized.
 
"It's not just a time. Maybe six months isn't enough."
 
"We're encouraging our athletes to give it a little bit more time, especially in high contact sports where eight to nine months is recommended," he suggested.
 
Dr. Havig said that the first five to 10 years he was in practice he saw tons of cases where people in their 30s and 40s were experiencing arthritis issues, including his friends that played football alongside him at Naples High School, having trouble because they didn't get their ACL injuries fixed immediately.
 
That changed in the late 90s, he declared.
 
"We started fixing most of the ACL tears that we'd see, and got better at it. Now I don't see those same issues, and it used to be a commonplace. We seem to have dramatically reduced this problem of developing arthritis at such a young age," he confirmed.
 
Today, for every young athlete that feels invincible—those who don't think it will happen to them—the most elite athletes, like Nelson and Peterson, justify their chances of a sooner-than-expected comeback—and Dr. Havig held his stance that we're headed in the right direction by continually modernizing ACL reconstruction and repair efforts.
 
"It tells me we're doing the right thing.".